Categories
Categories
Brands
Brands
Japanese HISHIKA Ryoba carpenter's proffesional saw,240 mm blade,HI-240ER,S-23
Product Description
Japanese TOP

quality

HISHIKA

Ryoba

carpenter's saw

,240 mm blade,wood handle.
G

enuine Japanese tool.
M

ade in

JAPAN.



High-performance Ryoba for wood joints as well as trimming cuts and cuts along the grain.
Ideal for both, professional and D.I.Y use.
Forget all those cheap made hand tools and get yourself a Top quality Japanese product.

For extremely precise and accurate cuts.
---
Hishika Japanese Hand Saws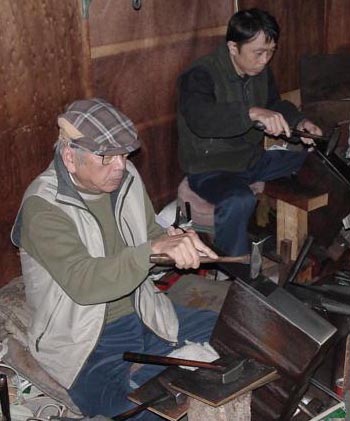 The Japanese tradition of woodworking has some fundamental differences from Western woodworking. One of those fundamental differences is that Japanese saws cut on the pull stroke. Many people who are comfortable with the Western style of saw find this awkward at first, but there are some undeniable advantages. It is possible with a pull stoke saw to make the blade much thinner than on a push type saw, since a pull-stroke saw does not need to have any inherent rigidity. This allows the blades on Japanese saws to be dramatically thinner than even the best Western saws. The thin kerf of a Japanese saw means that less material is removed, which translates directly into less effort being exerted by the user. The teeth on fine toothed Japanese saws, are shaped differently than Western saws. On the finest quality saws, like those of Hishika, these teeth leave a glass smooth surface.
Hishika makes high-end hand made Japanese saw in the best tradition of Japanese sawmaking, as well as more modestly priced machine made saws which are also the best in their class. The market for Japanese saws is dominated today by machine made saws, which are much less costly to produce, but a fine hand-made saw like the Hishika hand made saws do have distinct performance advantages over their machine made counterparts that will appeal to the connoisseur.
Product Reviews
Find Similar Products by Category
Customers also viewed